Free Workshop: AI For Business
May 30 @ 2:45 pm

-

5:00 pm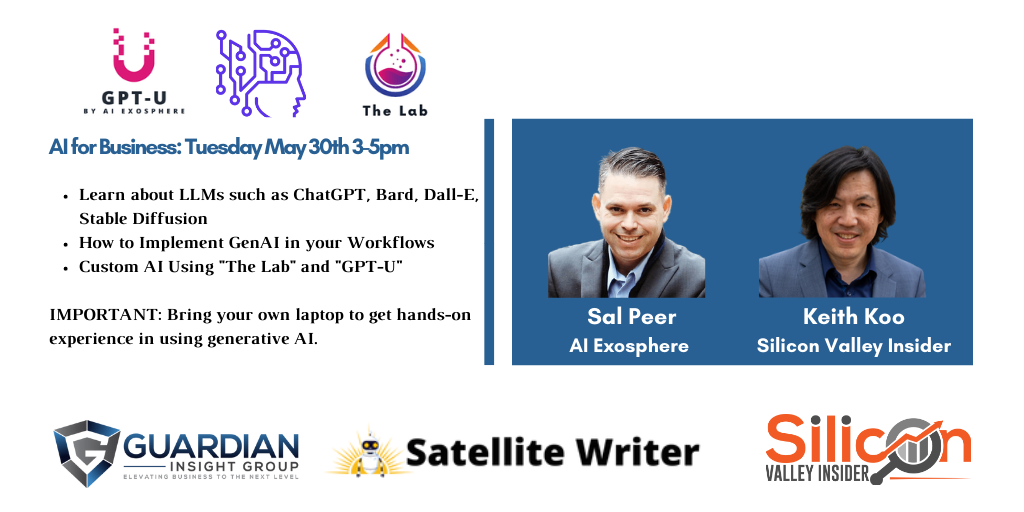 Event Title: Free Workshop: AI For Business
Date: May 30, 2023
Time: 2:45 PM – 5:00 PM
Location: NTT Experience Center, San Francisco, CA
Cost: Free (space is limited)
Description:
Artificial intelligence (AI) is rapidly changing the world, and it's important to understand how you can use AI as a tool to enhance your business and personal passion projects.  This hands-on workshop will give you everything you need to get started with using AI as a tool.
The workshop will cover:
What are Large Language Models (LLMs) such as ChatGPT, Bard, Bing, Dall-E and Stable Diffusion
How to implement Generative AI into your current workflows
Why it is important to know the differences between "Generative AI" and "Custom AI"
How to use "The Lab" and "GPT-U" to create custom AI for your needs
Hands-on training in a large conference room environment
*All participants will receive a free account to "Satellite Writer" and additional free credits.
**BRING YOUR LAPTOP for the best experience**
Agenda:
2:45 PM – 3:00 PM: Check-In
3:00 PM – 5:00 PM: Hands-on Workshop
All workshop participants are invited to stay for the 5:30pm to 8:30pm  "AI Revolution: How it Will Impact You and Your Work"
Speaker Bios:
Sal Peer is the creative genius and CEO at Social Brim, LLC and founder of AI Exosphere, LLC . Sal is an award-winning design, innovation, advertising, and search specialist. A lifelong entrepreneur with a deep passion for the arts whose vision is to build a better future through bleeding-edge technologies.
Keith Koo is the Managing Partner of Guardian Insight Group LLC a technology services advisory firm that is building fined-tuned AI models for clients and the creator and host of Silicon Valley Insider, a podcast that covers the latest news and trends in Silicon Valley. Keith has over three decades of experience in the technology, consulting, and investment industry, and he has held senior positions at companies such as Cisco, HPE, Inuit and MUFG.
We hope to see you there!